To share your ideas, research and experiences on health and wellness, contributing to the development of practice, education and research, we would like to invite you to participate in this scientific event!
Abstracts should be submitted in English or Portuguese, and can be presented at the congress in English or Portuguese.
Submission by e-mail healthwellbeingcongress@viseu.ipiaget.pt
Abstract publication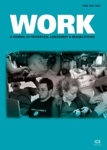 Journal: WORK — A Journal of Prevention, Assessment & Rehabilitation
IMPACT FACTOR 2018 – 0.902
ISSN print: 1051-9815
ISSN online: 1875-9270
Topics of the congress
Assessment and Intervention in Health and Well-being;
Education and Training in Health and Well-being;
Product innovation and development;
Health and Well-being Policies and Management;
Health and Well-being of an increasingly aging society;
Health and Well-being and Emerging Health Threats;
Challenges in Digital Health;
Unconventional therapies in health care and well-being.
Abstracts submission
Abstracts should be submitted in English (UK) or Portuguese (PT);
The abstracts must be original in content and structured as follows: Introduction, Objectives, Methods, Results and Conclusions);
The abstracts must have a maximum of 400 words;
3 to 5 bibliographic references – The reference style for WORK is Vancouver style

Place citations as numbers in square brackets in the text. All publications cited in the text should be presented in a list of references following the text of the manuscript. Only articles published or accepted for publication should be listed in the reference list. Submitted articles can be listed in the text as (author(s), unpublished data):
All authors should be listed in the reference list.

References must be listed in Vancouver style:

[1] Rose ME, Huerbin MB, Melick J, Marion DW, Palmer AM, Schiding JK, et al. Regulation of interstitial excitatory amino acid concentrations after cortical contusion injury. Brain Res. 2002; 935(12): 406.
[2] Murray PR, Rosenthal KS, Kobayashi GS, Pfaller MA. Medical microbiology. 4th ed. St. Louis: Mosby; 2002.
[3] Berkow R, Fletcher AJ, editors. The Merck manual of diagnosis and therapy. 16th ed. Rahway (NJ): Merck Research Laboratories; 1992.
[4] Meltzer PS, Kallioniemi A, Trent JM. Chromosome alterations in human solid tumors. In: Vogelstein B, Kinzler KW, editors. The genetic basis of human cancer. New York: McGrawHill; 2002. p. 93113.
[5] Canadian Cancer Society [homepage on the Internet]. Toronto: The Society; 2006 [updated 2006 May 12; cited 2006 Oct 17]. Available from: http://www.cancer.ca/.

To be completed and sent in Word format, using the Submission Form of available abstracts, 1.5 spaces, in black, font "Calibri", size 11 with margins of 5 cm (top) and 2,5 cm (bottom, left and right);
All abstracts received will be submitted to peer review;
Authors are responsible for the content of their presentations;
The author submitting the abstract must declare (on behalf of all authors) the originality of the abstract and authorise the publication of the abstract in Journal of WORK;
The abstracts related to RCTs are advised to include the unique identification number of the study record (studies can be recorded free of charge at https://clinicaltrials.gov/);
Each author can only submit at most two communications (oral and / or poster).