The organising committee invites the participation and submission of its abstracts.
Important Deadlines
NEW Deadline for submission: Until February 28th, 2019;
Deadline for authors notification: Authors will be informed by March 26th, 2019;
Deadline for registration: April 5th, 2019;
The abstracts will be published in the Abstract publication: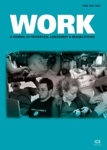 Journal: WORK – A Journal of Prevention, Assessment & Rehabilitation
IMPACT FACTOR 2018 – 0.902
Please feel free to participate and submit your abstracts via email.
Guidelines for authors
Template abstract Health and Well-Being Congress 2019
Important Note: When sending, do not include information about authors (names and affiliations) in the files to be sent (this must be in the body of the email), as they will be peer reviewed.
Your participation can take one of the following formats
Oral communication
Poster presentation
Notices
At least one of the authors of the accepted work must be officially registered and pay for the registration until April 5th, 2019;
If payment of the registration is not made within the stipulated deadline, the communication will be eliminated from the program and publication;
The best oral communication and the best poster will receive awards.